New England Newspaper & Press Association
The New England Newspaper & Press Association (NENPA) is the professional trade organization for newspapers in the six New England states: Massachusetts, Connecticut, New Hampshire, Vermont, Maine and Rhode Island.
NENPA is proud to represent and serve more than 450 daily, weekly and specialty newspapers throughout the six-state region.
NENPA is the principal advocate for newspapers in New England, helping them to successfully fulfill their mission to engage and inform the public while navigating and ultimately thriving in today's evolving media landscape.
Latest eBulletin
2021 New England Newspaper Convention Sponsors
May
20
Thu
Using Good Old Photoshop in New Ways
May 20 @ 2:00 pm – 3:00 pm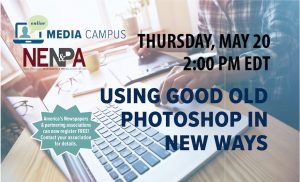 This is an Online Media Campus NENPA U webinar. Members, please contact Tara Cleary at t.cleary@nenpa.com for the free registration code.
In This Webinar:
Old habits die hard. When it come to working faster and getting better results, it's time to try to break the old production habits and learn new ways. Photoshop has so many improvements that we are often surprised by how to rethink the way we work on photos.
Russell Viers wants us to put the past behind us and look at new ways to get better results and start using the new versions of our old friend Photoshop.
About the presenter:
Russell Viers is an Adobe Certified Instructor in InDesign, Photoshop and Illustrator. He specializes in print production and started his career in 1981 as a reporter/photographer for a small daily newspaper. Through the years, he has been involved in most aspects of publishing. Since 1997, Viers has presented in 23 countries for publishing events including AdobeMAX, where he was honored as an AdobeMAX Master. In addition to speaking, he has helped many major publications and designers learn techniques to work faster and improve quality including Better Homes and Gardens, Ladies Home Journal, American Greetings and many others!